Perhaps you want to do bathroom renovation simply to catch up on the latest trends on interior design, or as preparation for home resale. Nonetheless, most people think about the return on their investment (ROI) of such upgrades.
More than the fleeting sense of satisfaction of having a modern-looking bathroom, it is logical to wonder whether the money you put into the house upgrade will increase its value over time. After all, many homeowners end up deciding to sell their homes in a relatively short time after buying it.
ROI of Bathroom Renovation
According to the National Association of Realtors (NAR) 2019 Remodeling Impact Report, bathroom renovation projects have one of the highest ROI, with returns amounting to as much as 60% up to 80%, depending on the materials used. Bathroom upgrades increase the value of a home for two reasons: it improves the bathroom's functionality and aesthetics. After all, who doesn't like a home with a clean, functional, and stylish bathroom?
When considering a renovation project, it is ideal to aim for low upfront costs with high returns. How much your remodel costs will be based on factors such as who you hire as your contractor, the materials you use, the time frame, as well as how extensive the changes will be.
On average, homeowners spend around $3,000 to $12,000 for minor upgrades, $20,000 for a midrange bathroom makeover project, and nearly $65,000 on an upscale bathroom renovation project. Upon resale, midrange renovations recoup about 67.2% of their costs, while upscale renovations recoup around 60.2%. When put into perspective, a $20,000 renovation cost for a mid-range upgrade will rake in a resale value of $13,440 while a $65,000 remodeling project will amass a resale value of $39,130.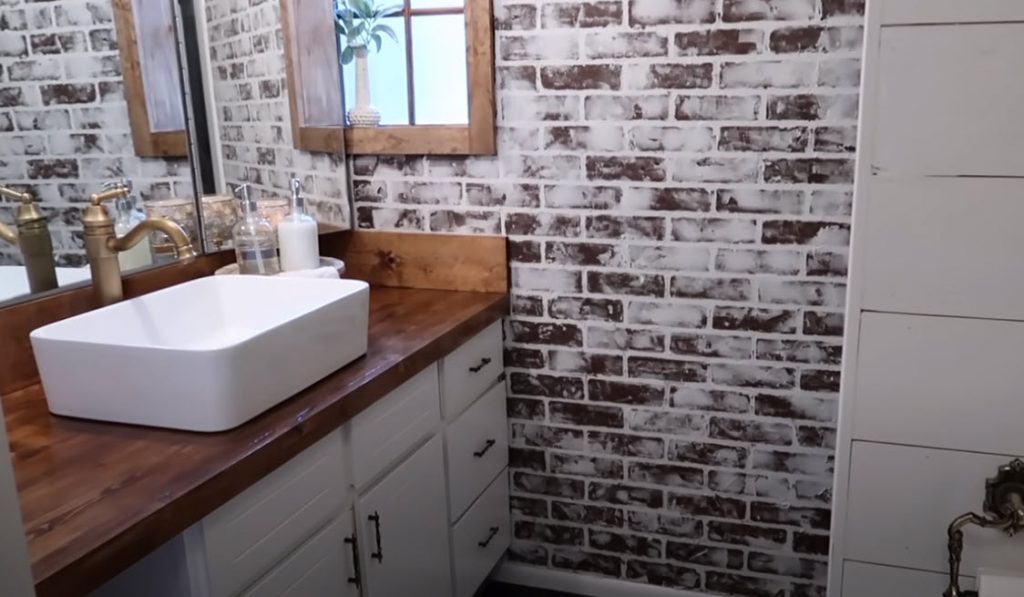 5 High Value Bathroom Renovation Ideas
Keep in mind that it is always preferable to be realistic when it comes to recouping the cost of any home improvements that you plan on making, especially since you are not going to get a complete 100% return on your renovation investment. As such, improvements that tend to have the highest returns are those that cost less at the outset.
To help you out, these are some of the renovations we recommend for you to maximize recoupment percentages:
1. Refinish the Bathtubs to Make it Look Brand New
Just as an old, stained bathtub with chips and cracks can instantly make a room look dated and dilapidated, a "brand new" bathtub will surely make the entire space look more modern and inviting. However, actually replacing the bathtub will cost you a fortune and will more likely diminish your ROI because of how utterly expensive it is. Thankfully, you do not have to rip out the old tub and replace it with a new one to make it look new. All you have to do is to refinish, reglaze, or resurface the tub and it will instantly look glossy, smooth, and brand new. Moreover, when entrusted to professional refinishers, the entire process takes up less than a day, so you can save lots of time, money, and effort.
2. Vanity Upgrades
If you have more leeway on the budget you can spend for renovation, consider upgrading the entire vanity. This includes not just the faucets, but also cabinets, sinks, countertops, as well as the mirror. You have the choice to buy vanity kits that have all of the elements you need for one price, or you can choose to put together the perfect vanity yourself. Just make sure that you will choose materials that look modern and stylish. For instance, marble and granite are usually trendy picks for countertops, while tile and laminate are usually not recommended because of how retro it looks.
If the budget and available bathroom space allows for it, it is also a good idea to opt for double vanities instead of just one. Not only is it a very popular design nowadays, but it will also prove to be convenient and time-saving for occupants who will have to share the bathroom.
3. Fresh Coat of Paint
Something as simple as a new coat of paint can make a big impact on the overall appeal of the bathroom. This is especially true if there are signs of molds and mildew infestation evident on the walls. Best of all, this is a project that you can easily do on your own if you have time to spare.
To make the room look bright, airy, and more spacious, opt for light, neutral colors, preferably white or off-white colors like cream, light beige, etc. On the other hand, if you want to make it appear chic and moody, go for dark-toned neutral colors like black or varying shades of grey.
4. Flooring
If you are aiming for a dramatic change, then there is no better way than to upgrade the flooring in your bathroom. After all, it is probably the most worn out part of any bathroom, especially in areas that have frequent high traffic such as the entryway and around the vanity. On average, the cost per square foot of bathroom flooring is about $2.50 on the low end and $4.00 on the high end. You also need to factor in labor costs. And, if you really want to take the floors to the next level, you could install radiant heat mats under the tile, which will warm the floors so that you will never have to suffer from freezing cold floors after a shower or bath. On average, that costs an extra $5.00 to $8.00 per square foot.
5. Energy Efficient Updates
Given the incredibly advanced technology that we now have, it is now possible to use as little electricity as possible to do tasks that used to require enormous energy consumption. With energy-efficient devices and technology, we can save up on electricity and water bills while helping the environment. On top of that, since more and more consumers are becoming increasingly aware of eco-friendly solutions, installing energy-efficient updates to your bathroom will surely increase its resale value. Some examples include LED lighting, motion-sensor triggered faucets, and many more.
More tips on this article, 7 Bathtub Problems to Look Out For and How to Fix It
So, Is a Bathroom Renovation Worth It?
In the end, it is the homeowner's choice that will ultimately decide if a bathroom renovation will be worth the expense. As mentioned, it depends on several factors such as how high-end the materials will be, who will be hired as the contractor, and how extensive the changes will be. Overall though, it is a general consensus that you can expect to get a good return on the money that you spend on bathroom renovation.
If you have finally decided to refresh your bathroom with a whole new look–be it for personal comfort and satisfaction or to increase your home's resale value–we are here to help you. LF Jersey City Tub Reglazing & Refinishing offers top-notch services on bathtub repair, reglazing, and refinishing, tile refinishing, and many more. We ensure that our services will satisfy our customers, and that has made us among the most sought-after services in the bathroom upgrade industry.
Give us a call at (201) 508-0009 and we will gladly offer our services to you!