JERSEY CITY
BATHTUB REFINISHING
Our tub reglazing and refinishing process has been able to work wonders on hundreds of bathrooms. Is yours next?
LF Jersey City Tub Reglazing & Refinishing
PROFESSIONAL BATHTUB REFINISHING
There is nothing like a warm bath to help ease tired muscle and alleviate stress. But for many, slipping into a tub that is old, rusty and chipped can cause more stress than it's worth. Is your bathtub or shower stressing you out? Let us help with our refinishing services. Along with bathtubs, we can also glaze your sinks, tile walls and floors, shower pans, shower units, and more.
We are a family owned and operated business with over 2 decades of experience. With our trained professionals and the right equipment, you can be assured of the highest quality result. We strive to provide you with prompt and affordable service, without compromising the quality of the finished product. Call us today to book your appointment.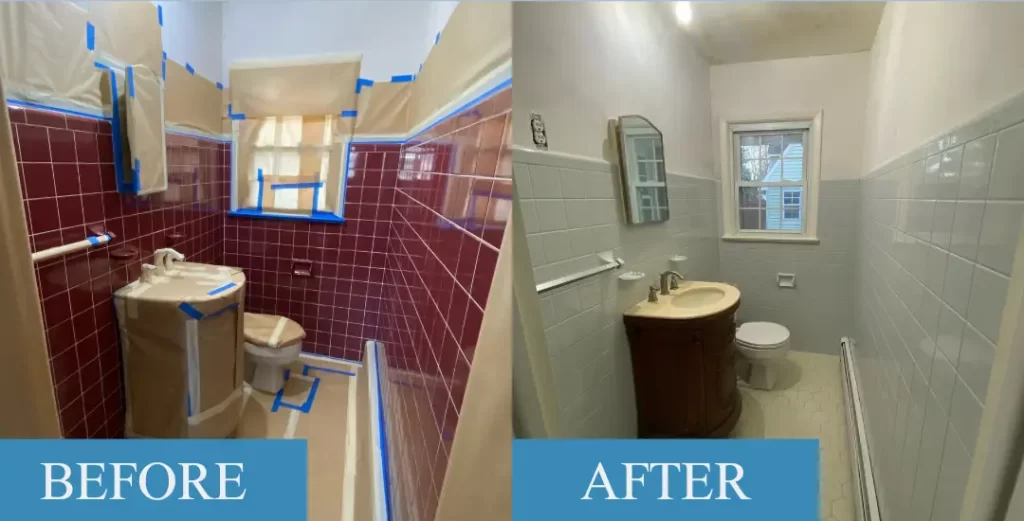 LF Jersey City Tub Reglazing & Refinishing has over 20 years of reglazing and refinishing experience.

EXPERIENCED PROFESSIONALS



Our goal is to be the most recommended and sought-after refinishing service provider, delivering the best of quality services to our customers both locally and beyond. We believe that each customer deserves to be treated as our priority. This has helped us to establish lasting relationships with customers and to become their preferred service provider. We are ready and fully equipped to handle your bathroom refinishing jobs including the most challenging ones. We are ready to go beyond your expectations with your next refinishing project.
ADVANTAGES OF BATHTUB REGLAZING

A fraction of the cost to replace

A glazed bathtub can give the same look like a new one

It improves the aesthetic value of your bathroom
HIRE EXPERIENCED PROFESSIONALS WHO GIVE outstanding customer service.
Bathtub Refinishing
This is a type of affordable bathtub restoration that involves buffing down the paint and applying a new coat along with some protectant.
Tile Reglazing, Refinishing & Regrouting
Do the tiles around your bathroom look so bad that you almost can't stand to be in there with them? Was the color you chose super nice looking back in the day, but just hasn't aged well at all?
Bathtub Repairs
Bathtubs are mostly installed in houses before walls being completed. As a result, when damage is detected at the end of the building process, it is not always possible to replace the tub.
Countertop Resurfacing
If you are planning a bathroom makeover but don't have the money to install new tile countertops, try an economical approach: Resurface your current tiles to give them an entirely fresh appearance.
WHY CONSIDER REFINISHING OVER REPLACING?
Refinishing your bathtub can have quite a dramatic impact on your entire bathroom. Chances are that even if you changed the tiles and repainted the entire bathroom, an old, stained bathtub would still stand out. Half the time we have a choice (when we finally admit there's something wrong with our bathroom) to either replace or resurface the bathtub.
Hiring a professional to refinish your tub is relatively inexpensive — usually costing as little as a couple of hundred dollars. In return for paying to have someone do the work, you save time, eliminate the worry of making mistakes and receive numerous benefits, such as:
Avoiding the mess and fumes of the refinishing product
Having superior surface preparation
Enjoying high-quality finishing that makes the tub look like new
Getting an increased number of color choices. Most professional refinishers can match your existing color or create custom shades
Obtaining a finish that can last years to come.
When you hire a professional, you can allow the professional to guide your choices in the color and finish of the reglazing tub product. Many pros can create custom colors to match what you already have or provide a completely different look. Before you hire someone to refinish your bathtub, get estimates from at least two or three companies to make sure you're getting the most competitive rates. Ask potential contractors:
What are your color choices? What kind of refinishing bathtub paint do you use? Are there any warranties?
How many workers will be present during the job, and how long will it take? If you use subcontractors, do you perform background checks?
How many years have you been refinishing bathtubs? How many projects do you typically complete every month?
Additionally, verify that the contractor is licensed and insured. Ask for pictures of the contractor's previous work, and check the professional's references to gauge other customers' level of satisfaction.
As much as we hate to admit it, the materials used in manufacturing the older tubs are a lot more durable than the ones used now. What this means is, resurfacing your old tub leaves you with a better top quality bathtub as against replacing it with the newer one of lesser quality.
Overall, it's a whole lot better to resurface than to replace your tub.
HAVE ANY QUESTIONS? Call Us Today!