The bathroom is one of the most personal spaces at home. It is a place to unwind, care for oneself, and let go of the pent-up stresses of the day. In some ways, it is also a reflection of who we are and how much we value hygiene and elegance in caring for oneself. Hence, its design and functionality should receive as much detail and attention as the rest of the house.
If it has been quite some years since your bathroom has been put together, you might want to revisit the design and revamp it according to the current trend. Whether you are making small upgrades or going for a full overhaul, a bathroom renovation makes a huge difference in the feel of your home. After all, it can either be an oasis of comfort or the bane of a homeowner's existence.
So, if you have decided to have your bathroom remodel, you have come to the right place. With this brilliant bathroom remodel ideas we have compiled, you can create the bathroom of your dreams.
Shower/Tub Location
The bathtub and shower combo is among the most popular layout for bathrooms with narrow spaces. Not only does this efficiently save space to make room for vanity and toilet, but it also helps reduce construction costs because all of the plumbing fixtures are contained within one wall. However, one must pay special attention to where the vanity, toilet, and tub/shower combination is located.
For instance, in this outdated 9×5 bathroom, the bathtub and shower combo is situated lengthwise, thereby leaving little room for a vanity fixture. This setup ends up making the room feel smaller and cramped.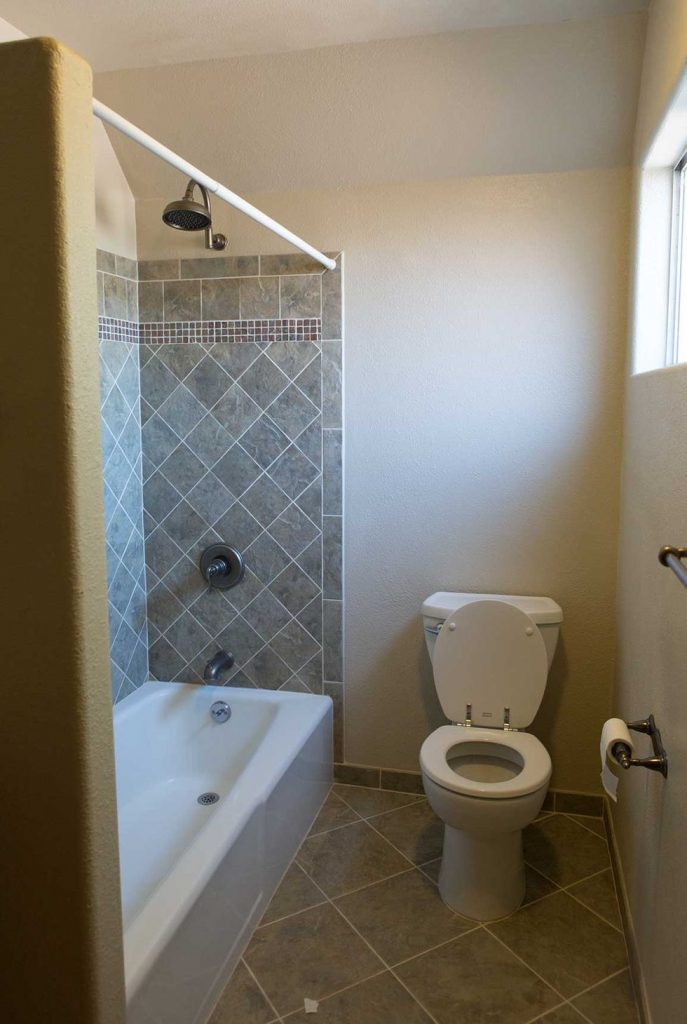 To remedy this, simply shift the location of the tub/shower combo in a horizontal or crosswise position. This frees up space on where the tub used to be so there would be room for a toilet, double vanity, and some extra storage area. When further enhanced with a light-colored paint and a contemporary look, the bathroom would look more spacious, bright, and airy.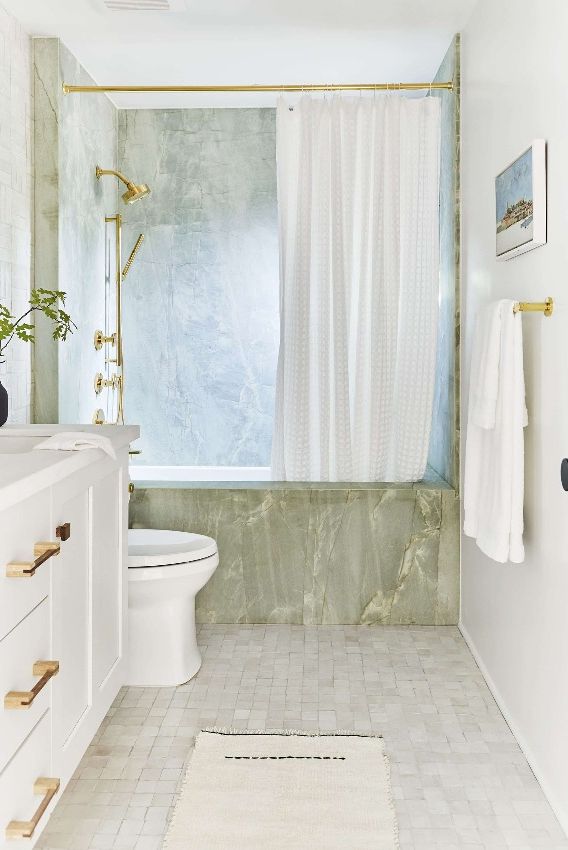 Flooring
When choosing a bathroom flooring, the first thing you should consider is how it will perform after being constantly exposed to water. After all, water is so prevalent in bathrooms and continued exposure to moisture will quickly ruin the wrong flooring. If your bathroom happens to have carpet or solid hardwood flooring, it would be best to switch it out for any of these durable and moisture-resistant floorings:
Porcelain or Ceramic Tile. Among all the choices in this list, tiles are still the best choice for bathroom flooring. It is waterproof, fairly inexpensive, and it has a rich, textured, solid feeling. Not to mention it is also stylish and it comes in great varieties of design, sizes, and shapes–from the square and rectangular to octagonal and hexagonal. You can even find ceramic tile that looks like wood or stone. In terms of aesthetics, smaller tiles are now considered more stylish. Best of all, tiles are incredibly easy to clean. However, tiles are cold and slippery, although texturing solves that problem.
Sheet, Plank, or Tile Vinyl. Because it is aesthetically pleasing and its incredibly easy installation can be DIY-ed, vinyl is also a popular choice for bathroom flooring. It is water-proof, cost-effective, stylish, and easy to install. Not only that, floating vinyl flooring is also easy to replace, so you could switch up the designs as you please. However, one disadvantage with this choice is that bumps and gaps on the underlayment or subfloor can be transmitted to the vinyl surface.
Natural stone. Natural stone is a good choice for bathroom flooring, but only if you can afford it. It is hard, durable, and aesthetically pleasing. However, stone flooring can be cold and slippery. Not to mention it is by far your most expensive flooring option and it cannot be DIY-ed.
Double Vanity
If you share a bathroom with someone–be it a sibling, a roommate, or a significant other–you know the frustration of having to wait for your turn to use the sink/vanity. With a double vanity, that won't be a problem anymore. Not only is it currently trendy and aesthetically pleasing, but it also saves precious time, and adds more counter and storage space. If you have enough space in your bathroom, a double vanity is worth the investment. The time and headache saved from not having to share a sink in the morning may be enough justification, but a double vanity may also be a worthwhile investment when selling your house because it is a luxury that can add up to 3% to the sales price.
Garden Tub
If you love to unwind through luxurious soaks in the bath after a long stressful day, then you should definitely consider having a garden tub. After all, it is one of the best ways to achieve a spa-like experience in your own bathroom. A garden tub is a modern-style freestanding soaking bathtub that's much larger and deeper than a normal tub. It is designed to be luxurious addition to bathrooms that have separate tubs and showers. It is different from standard bathtubs in terms of size and shower functionality. Garden tubs are much larger and longer than the standard bathtubs as they often resemble an oval jacuzzi or hot tub rather than a regular tub. As such, you could fill it with more water and cover your whole body. It also has excellent heat retention for a longer time. In terms of aesthetics, its contemporary and minimalist design is among the most trendy bathroom remodel amenities in upscale households in 2021.
Walk-in Shower
Walk-in showers are among the most popular bathroom remodel ideas these days, and for good reason: they're elegant, highly accessible, easy to clean, and spacious but can still fit in a small space. Best of all, it offers a wide range of possibilities on how you can enjoy your bath. You can choose between having steam baths resembling that of sauna spas, or you can reinvigorate under the gentle feeling of rainfall using rainfall showerheads. Finally, you can relish the feeling of being one with nature with waterfall-style showerheads.
Walk-in showers are usually considered a modern style due to its airy openness and thoughtful design. Nonetheless, you can definitely match your walk-in shower design with the rest of your home, whether it's modern, or contemporary, or eclectic.