If you are one of those homeowners who are always in tune with the trend in bathroom designs, you will definitely find this guide useful. Bathroom countertops are among the elements that can make or break your bathroom's overall look, and for that reason, you must pay special attention to what materials you use on your bathroom countertop. Here are five of the most popular countertops in 2021:
1. Granite Countertops
When it comes to countertops, those made of granite are surely a timeless classic. Although this choice is often costly, granite countertops always exude a look of rich luxury–thanks to its beautiful veining, specks and swirls. Not only are they extremely popular, but it also offers immense durability that will allow it to last for decades or even centuries.
Granite is mined straight from the rock, so it has a natural beauty that is undoubtedly elegant and appealing. On top of that, it also has a very natural texture and feel. It also comes in a variety of colors and shades, so you can freely choose a color that will match your bathroom's interior. If you end up choosing granite, make sure that it will be properly sealed for it to remain stain-resistant. Also, keep in mind that since its surface is naturally porous, it will absorb spills if you are not careful. Hence, a little care and precaution will help keep your granite bathroom countertop looking good for many years to come.
2. Quartz Countertops
Unlike granite, quartz is engineered stone rather than a natural stone. As such, you can freely choose from a wide variety of colors and patterns. Apart from that, quartz is also known for its durability. And unlike granite, quartz is waterproof and it does not require sealing. Moreover, it is resistant to stains and bacteria.
In terms of appearance, quartz sports a clean, contemporary look that can lend any bathroom space a sophisticated aura, thereby making it a popular choice for solid surface vanity tops. When it comes to the price tag, quartz is just about as expensive as granite. Nonetheless, you will get what you pay for because of its elegance, toughness, and durability.
The only other drawback to quartz is that the edges can easily chip. So, if you choose quartz as your bathroom vanity countertop material, you should opt for a rounded edge treatment to counteract this problem.
3. Recycled Glass Countertops
Recycled glass is currently one of the trendiest materials for bathroom countertops, partly because more and more people are being conscientious about recycling and being environmentally responsible. On top of that, this countertop is aesthetically pleasing. If you want your bathroom to look hip and exciting, then a color-infused recycled glass vanity top is your best bet.
When making the countertops, the glass is crushed into small fragments and then pressed together and embedded in a clear, very hard resin material so that no sharp edges are protruding. The glass colors for each recycled glass bathroom countertop are chosen for their ability to blend together. Hence, vanity tops made with recycled glass countertops are bright, attractive and quite durable.
Recycled glass is notable for its resistance to heat and scratches. It is also very easy to clean and stain-resistant. However, the downside is its susceptibility to chipping and cracking.
4. Laminate Countertops
One of the most common and most practical bathroom vanity countertops is laminate. This material is among the best choices for areas of heavy use but minimal abuse. This means that they are relatively hardy, water-resistant, and stain-resistant, but it will likely not withstand things like extreme heat from curling irons, etc. This is because the laminate's surface is made from a thin plastic material pressed with more plastic, particleboard, or plywood for a durable base.
For that reason, laminate is one of the low-cost alternatives for bathroom countertops. Not only that–it is also easy to clean and it is visually aesthetic because it comes in various colors and patterns. It can even mimic the appearance of wood, marble, granite, slate and other natural stones. Last but not the least, installing laminate bathroom countertops is a relatively easy DIY endeavor, so you can easily transform your bathroom interior in a matter of hours.
However, its downside is that when it gets damaged or worn out, you must replace the entire countertop as repairs are not possible.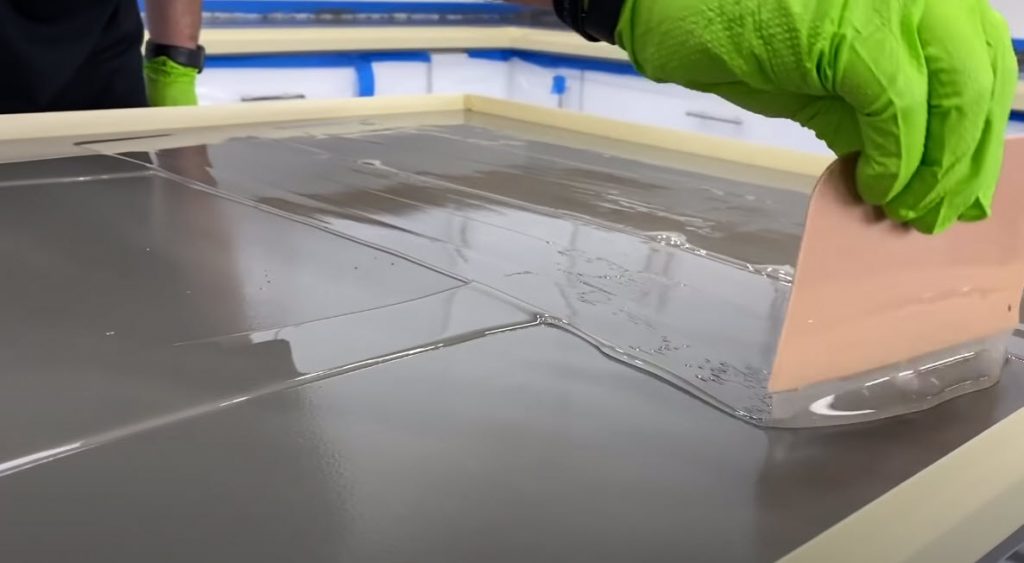 5. Tile Countertop
Tiles are timeless favorites when it comes to countertops. It is available in a multitude of colors, patterns and textures, which makes it a very appealing choice for those who like to customize to the fullest. It can even imitate the appearance of wood panels, marble, granite, and other natural stones. Overall, it can give off a sophisticated look with the right pattern. You can also choose from ceramic tiles, glass tiles, and porcelain tiles, although ceramic ones are the most common and popular.
Tiles are incredibly durable and are guaranteed to last for decades or more if well taken care of. They are also resistant to heat, impervious to water and incredibly easy to clean. Perhaps the only downside is that the grout lines can accumulate stains, grimes, and mildew growth if not cleaned for a long time.
Ceramic tiles are also a good option for backsplashes, shower/tub surrounds, and many other features in the bathroom. Hence, you can create a seamless appearance in your bathroom that can make the room appear larger and more spacious. Apart from that, tiles are among the most affordable options for countertops. To top it off, individual tiles can be replaced when damaged, so there is no need to rip off the entire countertop during repair.
Another awesome article for you: Transform a Dated Bathroom with Freshly Reglazed Ceramic Tiles
Maintaining Bathroom Countertop through Resurfacing
Back in the day, a full countertop replacement used to be the best option to save chipped and damaged countertops, but not anymore! LF Jersey City Tub Reglazing & Refinishing is here to offer our best solution. That is, to repair, reglaze, and refinish your surfaces on the spot! This takes care of the problem of unsightly and dilapidated countertops without the hassle and full-blown cost of a full countertop replacement.
Our professional resurfacing technicians have refinished hundreds of kitchen and bathroom countertops over the years. Through our refined refinishing process, we have saved countless homeowners thousands of dollars in replacement costs–leading to 30% up to 50% of savings. Best of all, we can get it done in just a few hours!
Our meticulous process involves thoroughly cleaning and sanding the counters, followed by applying a hard, durable acrylic coating and a high-quality bonding agent. The end product is a countertop that will remain beautiful and glossy for up to 15 years.
Ready to transform your countertops? Call us now at (201) 508-0009!