When we find ourselves in a clean and stylish bathroom, it is easy to feel calm, satisfied, and a little bit fancy. For such reasons, bathrooms are the number one place that homeowners love to remodel, even more than kitchens. However, one must bear in mind that renovating your bathroom is definitely going to cost you time, money, and lots of effort. The price of sprucing up an existing bathroom can range from a few thousand dollars to six figures if you want a highly sophisticated master bath. Fortunately, we are here to give you pro tips on how to make your bathroom more stylish while keeping the process smooth, efficient, and cost-effective.
Tip 1: Ask Yourself the Essential Questions Before Starting
Before starting with your renovation, it is important to plan ahead and you can do that by asking yourself the following questions:
What type of bathroom will it be?
Will it be half or full bath, wet or standard bath? Your answer will determine the bathroom layout.
How much budget do you plan to spend?
This is crucial because the extent of renovating your bathroom will depend on how much budget you allot for it. It is better to plan it ahead than to overspend later.
How much storage space do you need?
Remember that it is easier to add storage space while still planning the layout rather than later when everything is already set.
How many people will be using the bathroom?
Considering this factor will let you decide whether to put double vanity/sinks or not.
What do you not like about your current space?
Identify this clearly so that it will not be replicated in the layout of the new bathroom you are constructing.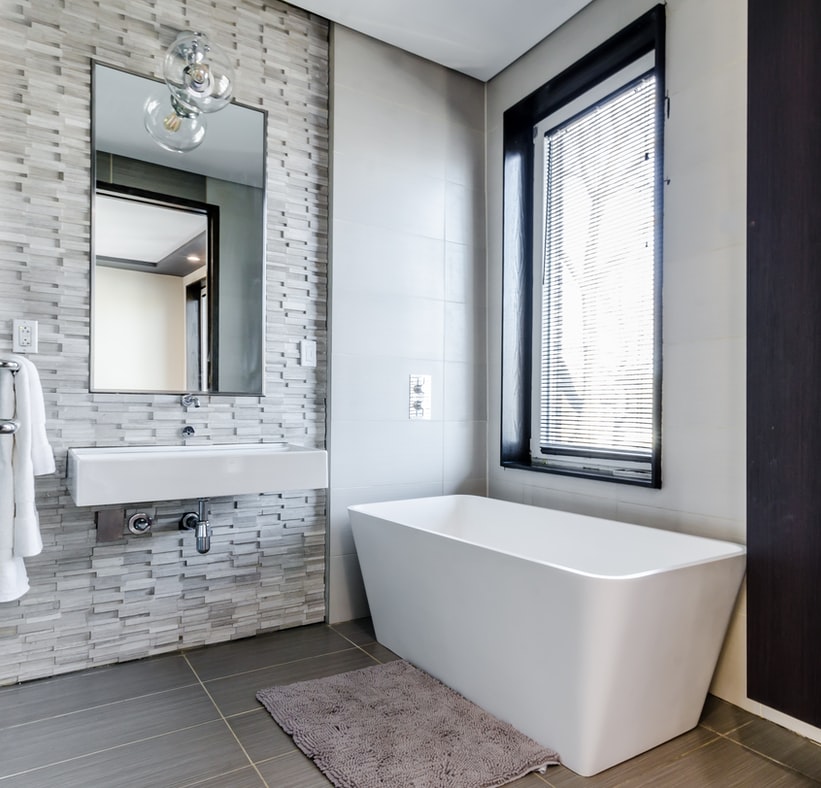 Tip 2: Develop a Bathroom Layout
Upon clearly answering the questions above, you can now proceed to developing your bathroom layout with the factors mentioned in mind. This layout would ultimately depend on the shape and size of the available area for your bathroom. Keep in mind that before planning the aesthetics of your bathroom remodel, you should nail down the layout first.
If you are already satisfied with the existing placement of the tub/shower, sink, and toilet, you can skip this step. But if your original bathroom layout was poorly designed and you want to rearrange the plumbing fixtures to make better use of the space, keep in mind that it will drive up the cost of your bathroom remodel.
If you are hiring an interior designer, ask for a 3-D rendering of what your new bathroom will look like. This way, you can visualize it better and explore several approaches until you come up with a satisfactory layout design. An experienced interior designer can help you make the best use of a small space or customize a larger layout to fit your unique needs.
Tip 3: Ensure Proper Ventilation
All bathrooms need ventilation because these rooms are naturally prone to dampness. Without proper ventilation, the humidity will encourage the growth of molds, which could be a threat to the occupants' health. Not to mention mold spells will leave nasty stains in walls, ceilings, and other hard-to-reach areas.
Usually, bathroom ventilations come in the form of windows/ vents or exhaust fans. Windows are a good source of ventilation and natural light, so if you want to achieve an airy ambiance in your bathroom, this will be a great choice. However, depending on where it is situated, windows can also let in traffic pollution, pollen, and even small wild animals like raccoons. Moreover, relying on windows for bathroom ventilation will be difficult during winter because it will definitely be too cold to crack open a window when you're in the shower.
Another option is to install exhaust fans. If you decide to go for this option, ask your contractor to help you decide where it should be installed for the most efficient airflow. Also, make sure its exhaust capacity (or how many cubic feet of air per minute they can move) is enough for the size of the bathroom.
Tip 4: Pick the Right Flooring Material
When choosing the bathroom flooring, stay far away from solid wood floors and carpets. While they do infuse bathrooms with texture and character, these are not water-resistant and it will end up causing problems such as molds and wood rot later on. Instead, pick flooring that is hardy enough to withstand continuous water exposure such as ceramic and porcelain tile, luxury vinyl plank, vinyl tiles, sheet vinyl flooring, and even natural stones.
Tip 5: Choose Light Colors for Walls, Ceilings, and Fixtures
One of the best ways of renovating your bathroom and making it more spacious and airy is to choose light colored paint for the walls and ceilings. White or off white colors are often the best choice as dark colored palettes make the room feel smaller than it actually is. Moreover, always opt for white or light-colored fixtures like white toilet and bathtub.
Tip 6: Ensure Proper Lighting
The bathroom–specifically the vanity–is a place where people visually inspect their hair and faces. As such, it is important to make sure that it has proper lighting. You can add lighting around the bathroom mirror, or opt for natural lighting from big windows. Having a natural light source around the mirror will allow you to see what you will look like when you step outside. Thus, giving true representations of the color and skin tone.
If possible, try to incorporate plenty of windows and maybe a skylight into your design. It is also a good idea to add mood to your bathroom with a dimmer light with warm white tones similar to the shade of sunset, which would set the perfect ambiance for late-night relaxing baths.
Tip 7: Add Built-in Recess for Extra Storage Room
When you are running out of space, it is a great idea to add built-in recessed shelves for soap, toiletries, towels, and even medicine cabinets to maximize the available space as much as possible.
Tip 8: Incorporate More Mirrors in the Bathroom
Mirrors in bathrooms are not only for the purpose of checking one's makeup or hair. It is also an important design element that expands the room size visually while adding light to the room. Not only does it make the room appear more open and spacious as it really is, but it also gives a sleek, modern vibe.
Tip 9: Add Some Plants
Plants in the bathroom should not be an afterthought but a necessity as it adds the much-needed color and vibrancy into sterile bathrooms. Consider adding a floating shelf solely for the purpose of adding trailing plants.
Tip 10: Add Freestanding Pieces
If the space permits, add at least one freestanding piece in your bathroom such as a decorative chair or cupboard as a design element. This decorative piece can also serve a practical use as a place to store towels, soaps, or other small items.
Tip 11: Add Some Luxury Amenities
When renovating your bathroom, go big by adding in some extra luxuries to make your bathroom more cozy and fancy.
Heated flooring. If you hate stepping on cold, hard floors after enjoying a warm cozy shower or bath, it might be worth it to invest in heated flooring. It is but a small, thoughtful touch to renovating your bathroom that will ultimately make a huge difference in terms of comfort. Not to mention, these floorings also dry more quickly than unheated floors; thus making slips and falls less likely.
Heated towel rail. This one is a little extra, but really, is there anything better than wrapping a pre-heated towel around yourself after getting out of the shower?
Built-in Bluetooth Speakers. Who does not love listening to some music while taking a relaxing bath? Add even more relaxing ambience to your bathroom by playing jazz or nature sounds through built-in waterproof bluetooth speakers connected to Alexa so that you can play music at voice command.
Smart Showers. This luxury allows you to adjust the water temperature precisely through voice commands.
Tip 12: Incorporate Accessibility Features Even Before You Need It
While renovating your bathroom, it is smart to think about the future and make it more accessible for you in old age. While the idea of having a disability or being less mobile might seem a distant concern, taking a few simple steps now can save you lots of money later on in the future.
Adding accessibility features does not necessarily mean adding in lots of grab rails right now. Instead, you can add blocking behind the drywall to support grab rails, should you need to install it in the future. A walk-in, the curbless shower is also an option that is not only aesthetically pleasing, but it also provides the added benefit of increasing the bathrooms' accessibility. Moreover, opt for slip-resistant tiles.
Also check this article Tub Reglazing vs Tub Replacement: Which is the Better Choice?